Campfire Canopy
The
Campfire Canopy
is the first patented fire shelter and will revolutionize the way you enjoy a campfire.  From the ease of maintenance and set up to the use of high quality material this canopy will allow you to enjoy its features for years.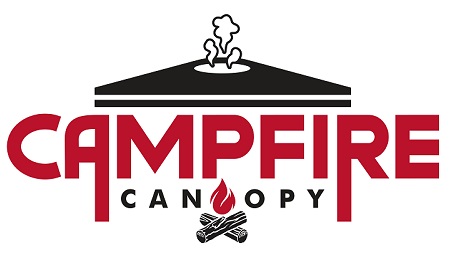 Why Campfire Canopy?
As a Navy Veteran, Aircraft Mechanic and an avid camper I have carefully considered every aspect of the Campfire Canopy. As an Aircraft Mechanic I have acquired an important understanding of attention to detail and utilized this to make sure nothing was left out during the design phase.
Call Today (810) 955-3402
Email chad@campfirecanopy.com
Key Features
As an avid camper I understood the struggles of trying to enjoy a campfire during inclement weather.  The Campfire Canopy solves this problem!
Aluminum Alloy Frame
We use strong materials to handle camping conditions, light enough to pack and carry.
Over 14 feet square
Our fire shelter gives you more space for you, your family and friends.
What about Smoke?
We have engineered the proper size opening to allow smoke to escape.
Ease of Maintenance
Easy to clean, pack and store. This canopy will allow you to enjoy its features for many years.
Water Proof and Fire Retardant
We have researched the best materirals for fire safety and weather conditions.
Shelter from Rain, Snow, Sleet and Sun
Large enough to accommodate a large group or small enough keep your family dry.
Where can you take your Campfire Canopy to?
Can you put a canopy over a campfire?
Yes you can! Campfire Canopy is the perfect solution to enjoy the outdoors with your family or friends. Designed and assembled in Michigan we know first hand that the weather can make or break your weekend. With over 400 hours in design and many feature changes we have developed a fire shelter that is not only practical but easy to clean and pack.
We have field tested our lastest design and challenged it's limits. This is not your normal tent or canopy. The materials used are fire rated and made to be water proof. Every aspect of the fire shelter has been worked and re-worked to make sure it lasts for a long time.
So when planning your next RV vacation, outdoor party or weekend camping trip, take our campfire canopy with you. No matter what Michigan weather brings you and your family, you will be ready.
How can you help protect a campfire in the rain?
With Campfire Canopy and be prepared to make new friends. As soon as you setup your fire shelter, your camping neighbors will notice. They will notice that in the rain, snow, sleet and hot sun you are still enjoying your fire. While they are huddling in their camper or RV you will still be outside listening to the rain, watching the snow, or hiding from the heat from the sun.
Not just for campfires. We all love to grill outdoors and sometimes we need shelter during inclement weather. It does not matter if your style is propane, log or BBQ briquettes, our fire canopy will create an outdoor environment that is comfortable for you and allows you to continue to cook for your family and friends.
Call Today (810) 955-3402or email chad@campfirecanopy.com today and get your own Campfire Canopy - Portable Fire Shelter.